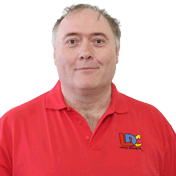 About me
Hi I'm Michael, I am a fully qualified Government Approved Driving Instructor (ADI) and I am passionate about road safety.
I live in Chorley with my wife Linda. We used to travel a lot but in recent years we tend to do more day trips and outings to the local cinema as we prefer to stay closer to home.
My favourite hobby is table tennis. I play in the top division of the Bury and Bolton leagues and have won many competitions. The most notable being the Isle of Man open and the Bolton closed. In addition, I enjoy playing chess and computer games.
In my past career prior to instructing, I worked in telecommunications and the insurance industry. I had wanted to become a driving instructor for many years and finally took the leap a few years ago.
I became a driving instructor because I wanted a job with real satisfaction and there is nothing better than seeing someone pass their test first time. My friends and colleagues say I am a calm and relaxed person, even my wife says it (so it must be true) so if you decide to choose me as your instructor, I know you will enjoy the calm relaxed environment.
I was fortunate to be trained by LDC in the latest adult coaching and training techniques so you can be assured the training I give will be of the highest standard.
I chose to work with LDC because everybody is different and the LD System allows for flexibility in lessons so that you learn to drive safely at a rate that suits you. I aim to make every lesson enjoyable and as productive as possible. The LD System just helps me to do this more effectively.
Lessons are always conducted in a calm, friendly and relaxed manner as I firmly believe in making pupils feel at ease during lessons.
Well I hope this gives you a brief idea about me so please feel free to click here to "Contact me"